Posted 12/11/2019 11:21:44
Category: Think Pieces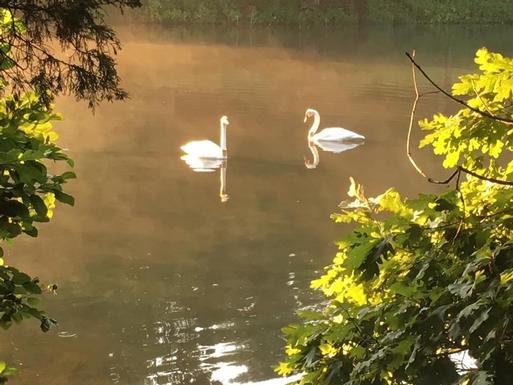 Captain's blog, stardate 11/1/2012. Note to self: Get your eyes checked. Because you looked at the paper and thought you saw Gov. Chris Christie and Barack Obama at a block party, in the happiest looking picture you've seen on the front page in a while. It's November, the month set aside, by presidential proclamation, for Americans to give thanks. But Gov. Christie came under fire almost immediately for expressing his gratitude for the Obama administration's prompt and efficient response to Hurricane Sandy. Some went so far as to caustically blame Christie for Romney's defeat.
This month Americans were glued to news about the Petraeus-Broadwell affair, showing much more interest in the general's extramarital affair than they've ever shown in the war he manages. That gives me a case of indigestion.
Feast and famine. This month CBS Sunday Morning aired a segment on food waste in America. Did you know that 40% of the food produced in this country ends up in landfills, confirming what I've always suspected: food shortage in America is a myth. The real problem isn't lack, it's waste and imbalance. It is estimated that every month, in this country, the equivalent of 20 pounds of food per person is tossed into the garbage by citizens, supermarkets, and restaurant chains—and that says nothing of all the "imperfect" produce which gets tossed as soon as it's picked. Happily, there is a growing movement to stop this waste, and to feed the millions of American men, women and children who still go hungry.
Food for thought. Forty-two years ago, the United American Indians of New England (UAINE) started a movement to educate Americans about history, painful history as it pertains to Thanksgiving, and to instill in Americans an appreciation for Native American culture. The following is text from a plaque on Cole's Hill, a National Historic Landmark in Plymouth, Massachusetts:
Since 1970, Native Americans have gathered at noon on Cole's Hill in Plymouth to commemorate a National Day of Mourning on the US Thanksgiving holiday. Many Native Americans do not celebrate the arrival of the Pilgrims and other European settlers. To them, Thanksgiving Day is a reminder of the genocide of millions of their people, the theft of their lands, and the relentless assault on their culture. Participants in a National Day of Mourning honor Native ancestors and the struggles of Native peoples to survive today. It is a day of remembrance and spiritual connection as well as a protest of the racism and oppression which Native Americans continue to experience.
Some will find that hard to digest, I know. So on to…
Dessert. A couple nights ago, unable to sleep, I got out of bed in the wee hours. I went to the window, lifted it, and heard, above the din of tractor trailers rolling down the highway a mile or so east, a plaintive owl. Yesterday, swans flew in and spent the morning on the pond, bottoms upended, enjoying their own November feast.
--DAC
11/2012 (edited 12/2019)