Posted 01/28/2020 18:01:27
Category: Think Pieces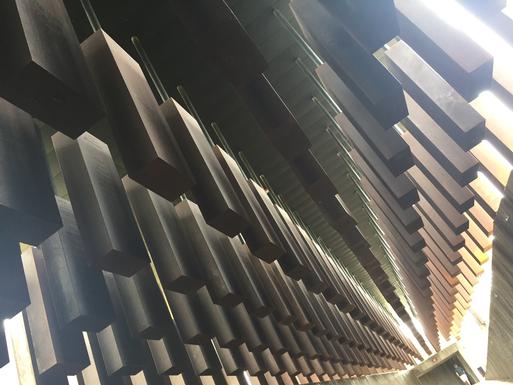 Photograph by Debra A. Copeland
At the end, as well as beginning of a year, I like to reflect on what has happened, and think about what might be. We are such a strange species, who kill each other wantonly but also go to great lengths to prevent death by other means: on the same day some are plotting war and violent acts, others are racing to protect against outbreak of disease. There is much dichotomy and contradiction associated with human existence, much that causes pain and sorrow, and much which brings pleasure and joy. Sometimes we experience these things all at the same time. What follows is a brief account of some of the more pleasureable/painful/joyful/sorrowful moments in my life in 2019.
JANUARY – Spent a week in complete silence and solitude, in a house on a mountaintop, working on a writing project. Well, I shouldn't say complete. I did talk on the phone to my husband and shared space and near complete silence with Lucy the dog, whose human parents were away on a trip. Together, Lucy, who comports herself and is regarded by humans as a princess, and I, her temporary but devoted guardian, survived two back-to-back ice storms. Thankfully, I didn't need to drive anywhere, and the house never lost power, leaving Lucy and me free to completely enjoy our transformed environs. Early the morning after the storms passed, we ventured out into the silent silver forest, into a fairytale kingdom. The sun rose, and gently but persistently stretched light across the landscape. When the light reached the forest, it worked a spell: Every tree on the mountain turned into finely cut crystal, sparkling, dazzling with ten million rainbow facets. I'm usually an inept photographer, didn't want to snap a picture anyway; didn't want to interrupt that brief moment of rare beauty by attempting to capture it with anything other than my senses. Lucy and I returned to the house in a state of enchantment. We went inside and shook off the cold. I fed the fire in the little wood stove; fed Lucy a treat; made a cup of tea. Lucy settled down for a long winter's nap; I wrote up a storm! Dark!—light!—fire!—ice!
MAY – Was invited by a friend to travel to Washington and Lee University, where Bryan Stevenson, founder of the Equal Justice Initiative and author of "Just Mercy," delivered the School of Law commencement address. My friend and I got in the car at 5:30 a.m. and drove three hours, arriving in plenty of time to stroll the grounds before sitting down to receive a compelling, heartfelt message from a man who is changing lives as well as the course of history--and whose vision and hard work have manifested two new, important American landmarks. (If you're unfamiliar with what I'm talking about, see entry for October below.)
JULY – Spent another week writing in silence and solitude, at another friend's house. [See "Brenda's Garden" under Picture Stories.]
SEPTEMBER - Was privileged to be part of a team which presented to the public a history of voting in our county. The program was called All Souls to the Polls and it was well attended and well received. The committee is continuing its work in 2020, with more ambitious goals.
OCTOBER – My husband and I got in the car and headed south. Our first stop: Montgomery, Alabama, where we spent a day at the Legacy Museum: From Enslavement to Mass Incarceration and the National Memorial for Peace and Justice. The Legacy Museum traces the history of enslavement in Alabama in powerful ways; through slavery, Alabama's history and the history of my native state, Virginia, intersect. The National Memorial for Peace and Justice commemorates victims of lynching. Thousands of murders have been documented; many remain undocumented. Rectangular metal monuments hang side by side in rows at the Memorial, engraved with the names of those killed. There is a monument for every county in the United States where lynchings occurred. Many of them are counties in Virginia (mine included), but lynchings occurred in counties in many states, not just in the South.
As my husband and I climbed the knoll on the path leading to the monuments, a bird sang on a low branch. The bird remained on the branch, it kept singing even as we got closer. In fact, it sang louder as we got closer and still didn't move even when I lifted my camera to within feet of it, and snapped.
. . . I think one I'd like to go back to the Memorial and leave my camera behind. I'd like to experience the memorial again the way I experienced the mountain during the ice storms, with only myself. It will be painful, I know. Again, I'll loathe myself for my ignorance, and empathize greatly and sorrowfully with Black Americans. But for Black Americans, the experience is in the bones. I want to know, but I will never know, like they know, in the dreaming of their bones. . .
It was raining when we visited the Civil Rights Memorial. Rain fell on and mixed with the water flowing over the round granite table engraved with the names of the martyred. Solemnly, we touched the water, let our hands rest gently upon the names. Inside the Civil Rights Memorial Center which is adjacent to the Memorial, we added our names to the Wall of Tolerance, and pledged "to take a stand against hate and work for justice and tolerance in [our] daily lives."
It was raining still when we visited the grave of Hank Williams, where I said to my husabnd: "I'm So Lonesome I Could Cry." We spent a couple hours at The Hank Williams Museum. Then we left Montgomery and headed to the Alabama shoreline to visit with friends. It was there I discovered that in Alabama, wild water is expansive. Twice our hosts took us out on their boat, on river, marsh, wetlands, bayou, cove, delta, bay, and a tiny bit of the Gulf of Mexico. We went out on the boat twice, and encountered dolphins each time, both going out and coming back in. The captain invited the dolphins to surf in the boat's wake. The dolphins happily accepted--all four times! It was one of the most delightful things I've ever experienced, dolphins leaping out of the water and sailing through the air right beside me! Once a mother dolphin surfed by, nudging her baby along. Those were sights, and days, I will never forget.
NOVEMBER – Hiked, on a sunny but cold day, up a mountain gorge, clambering over rocks as we crisscrossed the stream on a trail called, charmingly, Little Devil's Staircase.
DECEMBER – Hiked a new (to me) trail on another mountain closer to home. Learned how to make elderberry syrup. Started taking it daily as precaution against colds and flu. Made enough to share with family and friends (it made good Christmas presents). Already, I have anecdotal evidence of the syrup's efficacy; I'm a believer.
--DAC
01/2020